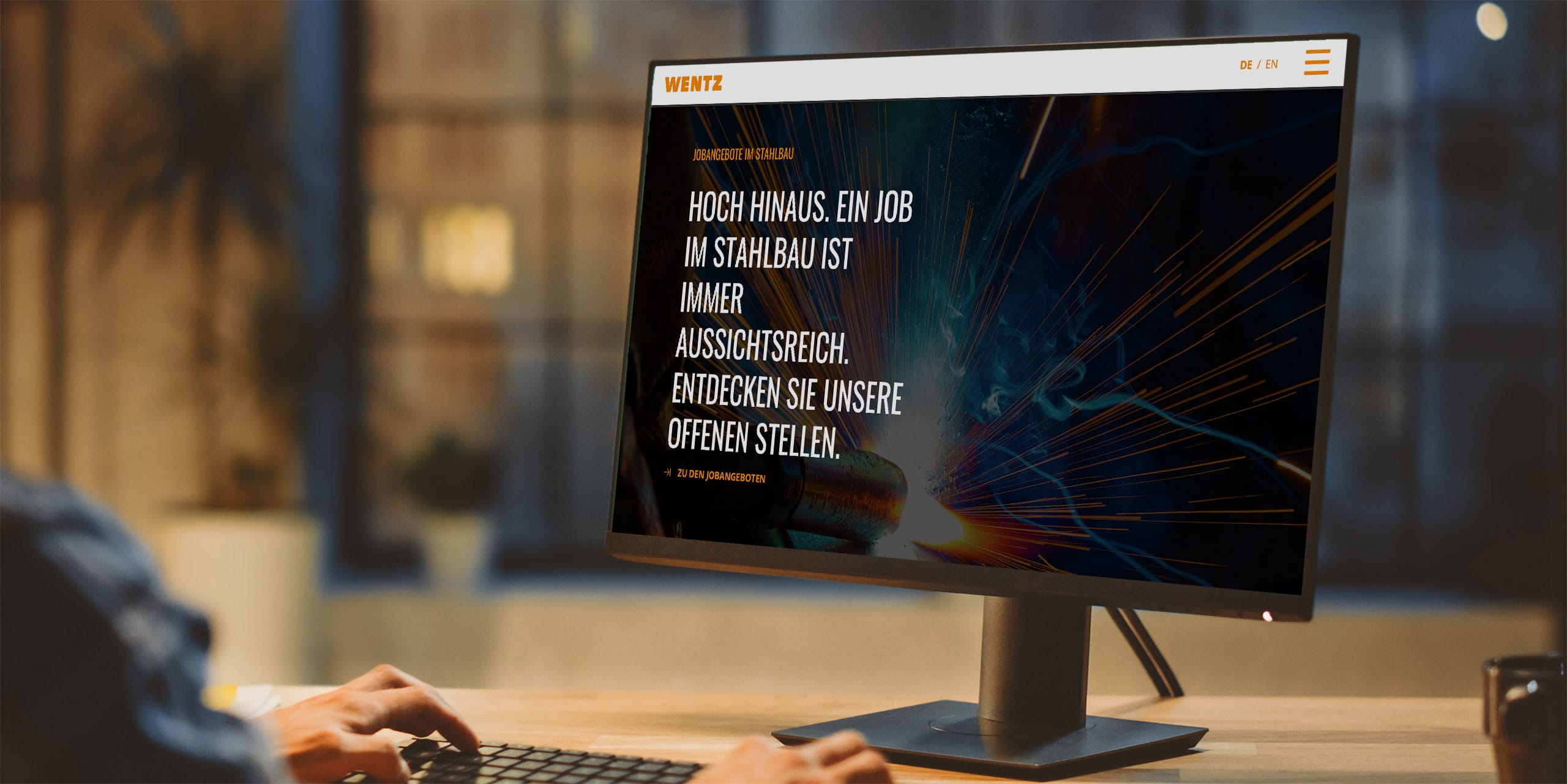 Website
Wentz Steel Construction
Strong as their business: new website for Wentz Steel Construction
The goals: recruitment & attractive inquiries
Wentz from Goslar-Langelsheim, Germany is a steel construction company active in the industrial sector, science industry and real estate. The individual projects are planned in detail by engineers and structural designers and realized by locksmiths and welders. Installation then takes place on site.
The company has set itself the goal of communicating its demanding daily routines more clearly and impressively to the outside world – on the one hand to show its attractiveness as an employer, and on the other hand to give potential customers a better understanding of the complex services it provides.
A strategic website structure
First of all, we developed a website structure that clearly distinguishes the company's four divisions, "Structural Steel Construction," "Hall Construction," "Mechanical and Plant Engineering," and "Radiation Protection". The background to this is that each divisions is different and appeals to a very distinct customer segment. The menu structure gives a clear visual guidance so that prospective customers can quickly find the division they are looking for.
The company's strengths and qualifications are important across all divisions. Since Wentz has competencies that only a few companies in the industry have, we created a separate "Qualifications & Certifications" area. Likewise, the standalone services of Stahl-Projektbau Wentz were described in detail at central points on the website.
A web design that reflects confindence
We Mobil Macher have also streamlined the visual appearance in order to make it look very confident. Many people associate steel work with "strength", "fire" or "stability". That's why we developed an image scheme that contrasts and promotes these associations. Our collaboration partner, photographer Hanno Keppel from Brunswick, then took photos with the company's employees on site so that we can integrate them into the website. The pictures show heavy equipment, sparks flying during welding, but also planning and consulting situations. The images harmonize perfectly with the new typography in capital letters, which also emphasizes the company's strengths. The logo was also modernized and given a more confident look by reducing it to its essential components.
Employee recruitment through attractive website
One side effect of the new attractive website design is that it also makes the company more attractive as an employer. The website is often the first and only point of contact that applicants have with the company – and thus the only chance for the Wentz company to convince prospective employees. In today's competition for skilled workers, this is a crucial advantage. Training and job offers have also been integrated into the website in a separate area with newly written descriptions that are geared towards the target group.
We wish Stahl-Projektbau Wentz much success with the new website!