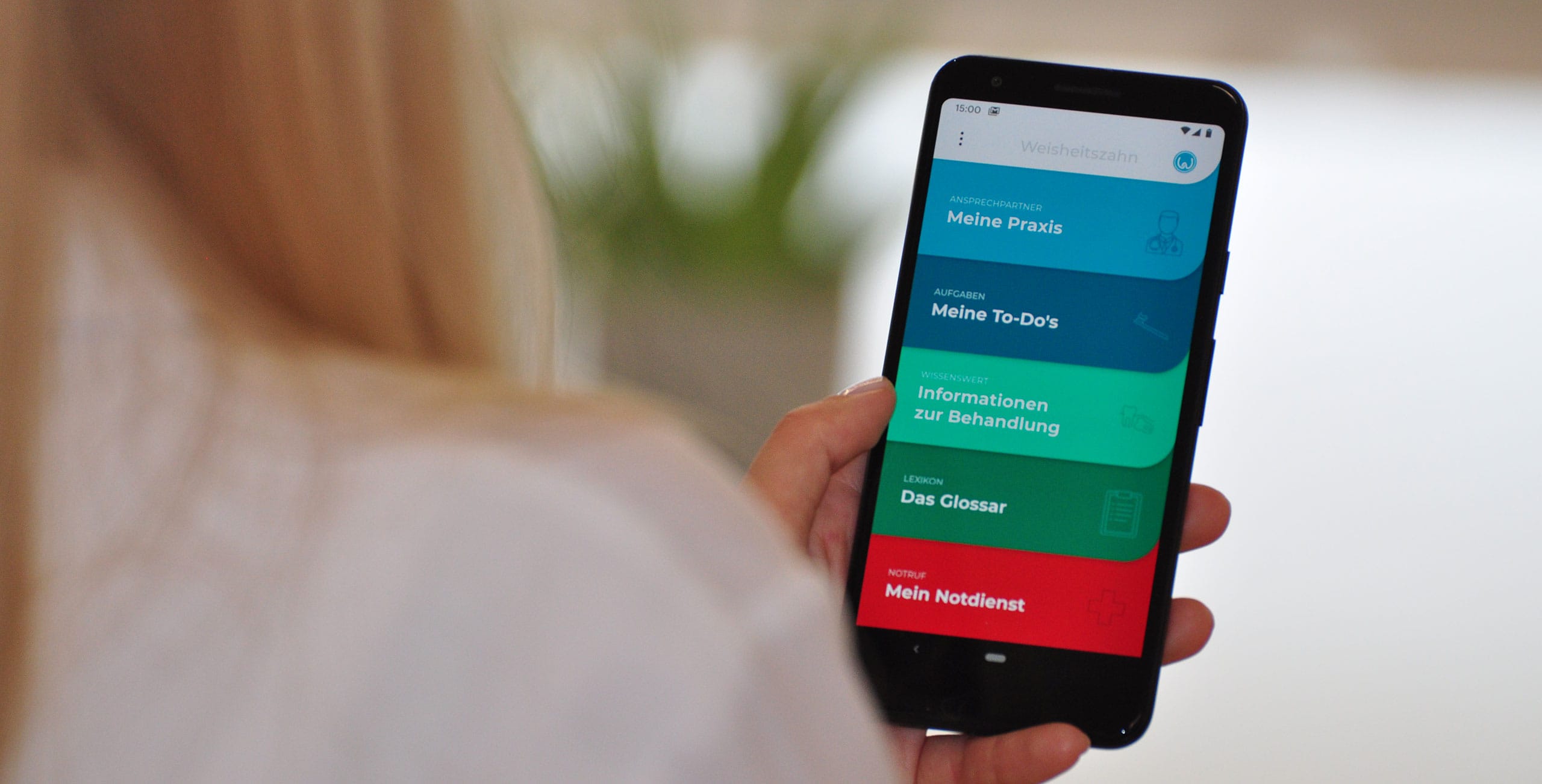 App
Weisheitszahn.de
Therapy app for the treatment of wisdom tooths
Background & goals of the therapy app
Wisdom tooth treatment is no walk in the park – and besides pain, it also involves quite a few steps that have to be taken into account. In order to make this process as pleasant as possible for patients, the experienced practice of Dr. Dr. Kim Redecker has developed the 'Wisdom Tooth App' together with the Pegasus Advertising Agency and us Mobil Macher. The goal: to develop an innovative and easy-to-understand app for iPhones and Android smartphones that accompanies the healing process of wisdom tooth surgery step by step.
Our "Mobil Macher"-solution
The core function of the app is the patient's personalized To-Do list. After entering the personal surgery appointment date, the app generates a personalized and day-specific To-Do list for the app user. This contains valuable actions before the surgery that contribute to a better healing process as well as tips for perfect organization in advance. It is followed by the To-Dos around the surgery date and lastly for the aftercare. In addition to behavioral advice, the app also provides nutritional advice.
Other tools and information complete the wisdom teeth app: Extensive FAQs about wisdom teeth, a very detailed, well-structured glossary, and direct access to emergency numbers and practice contacts are also part of the app for iOS and Android.
In terms of design, attention was paid to an intuitive and very appealing app design, where the information & To-Dos are presented in an appealing way. This allows the app to be used efficiently by patients during the (sometimes strenuous) treatment phase.
We wish the practice of Dr. Dr. Kim Redecker and especially the patients much success with the app!
By the way: The app is also suitable for patients of other dentists & oral surgeons!